The Pardo's arrived at Brandeis University in the summer of 2013 and are proud parents of three little girls, Haviva, Tiferet and baby Pardo!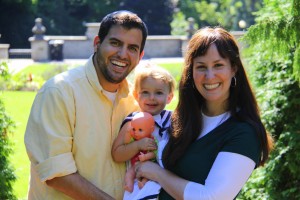 Rabbi David Pardo received his BA from UCLA and smikha from Yeshiva University, with supplementary education from the Isralight Institute and the CJF. A native Angelino, Rabbi Pardo realized as an undergrad that working on college campus was the place to be, and OU-JLIC was the greatest way to do it. Till now, he's lived in different corners of the world, working with different populations of young adults to build supercharged Jewish communities.
Rabbi Pardo loves learning meaningful things, hocking about interesting things, eating (and making) really spicy things, biking, fine tea brewing, and parenting with his awesome wife Ariel.
Ariel Pardo was born and bred in sunny Los Angeles. She attended YULA for high school and UCLA for college. After graduating cum laude with a degree in anthropology, she went to Nishmat's Alisa Flatow program for post-college students. While on YU's Gruss Campus in Israel, Ariel completed a certificate program from Machon Puah's Women's Health Training, learned Hilkhot Taharat Mishpacha under the guidance of Yoetzet Leora Bednarsh. and completed extended studies in YU's Midrashiya program. She met her husband at UCLA while doing a bunch of OU-JLIC programs together, and has traveled the globe in search of great tea (and Jewish things too).
Ariel's hobbies include learning Tanakh, seeing American musicals, drinking fine tea, chilling out with students, and adoring her two daughters.